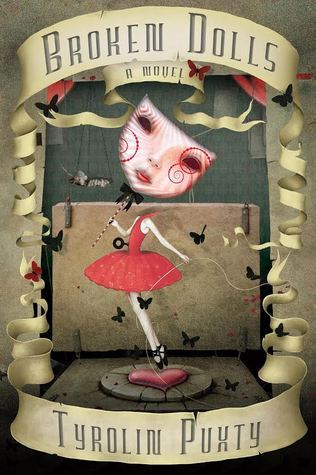 Título Original:
Broken Dolls
Título em Português:
--
Série:
Broken Dolls #1
Autor(a):
Tyrolin Puxty
Cover Artist:
Eugene Teplitsky
Editora:
Curiosity Quills Press
Páginas:
175
Data de Lançamento:
14 de Dezembro de 2015
Sinopse:


Ella doesn't remember what it's like to be human - after all, she's lived as a doll for thirty years. She forgets what it's like to taste, to breathe…to love.

She helps the professor create other dolls, but they don't seem to hang around for long. His most recent creation is Lisa, a sly goth. Ella doesn't like Lisa. How could she, when Lisa keeps trying to destroy her?

Ella likes the professor's granddaughter though, even if she is dying. Gabby is like Ella's personal bodyguard. It's too bad the professor wants to turn Gabby into a doll too, depriving her of an education…depriving her of life.

With time running out and mad dolls on the rampage, Ella questions her very existence as she unearths the secrets buried in her past; secrets that will decide whether Gabby will befall the same fate…
~ Recebemos este eARC directamente da CQ Press. Thank you! ~
Review in English
Opinião em Português
The title of this book was what caught my attention. I read the synopsis, but I've already decided that I wanted to read this book. Broken Dolls was alone very appealing to me.

And I wasn't disappointed, at all. The writing was light; it fitted the story line properly, without unnecessary embellishments, and it was fast paced. One of the most interesting aspects of this story was the twist created by the author in the last third of the book. I have to confess, I wasn't expecting that; it was well done.

In Broken Dolls, we follow the story of Ella, a human who was transformed into a doll. She doesn't remember her human life, only that one day she was human, and that she loves to dance, watch television and has a simple life in the Professor's attic. The Professor was the one who transformed Ella into a doll. He decides to create a new doll, Lisa, to make company to Ella, but it ends up not being a good idea. The peaceful life of Ella is turned upside down. And I'll not say anything else about the plot, because I enjoyed the way, little by little, I was discovering more about Ella, and her human past; about the Professor; and everything about the other dolls.

The author managed to create a perfect balance between what should be kept in secret and what to reveal, at the perfect time. This book has the impeccable cadence that keeps us satisfied with what we are reading, but, at the same time, eager to know more and more. The author's writing manipulates us – and I can even say, control us – to feel what she wants us to feel towards the characters in that moment, and the second later we are questioning the characters' actions, and then we realize why certain character did this or that, because it makes sense.

Summing up, I enjoyed this book and I think it's really good. It has an interesting story, well thought and it's well done. It will have a sequel and I'll, definitely, want to keep reading.
I'm a Jack, or more accurately, a Tyrolin of all trades. In my 23 years, I have walked the red carpet for song nominations, was awarded Australian of the Year in 2014 for Music and in 2015 for the Arts, worked as a qualified paralegal, appeared in TV Shows, hired for product photography, modelled, became a Justice of the Peace, started my own club for school children interested in the arts, worked for a successful magazine company, published a book, hugged a koala and had a show ride collapse on my head.
Find Tyrolin Puxty Online: