Ler em Português
Read in English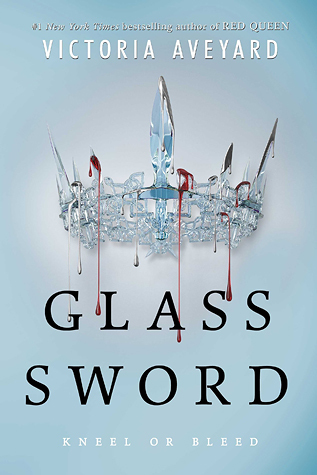 Título em Português:
--
Série:
Red Queen #2
Autor(a):
Victoria Aveyard
Editora:
Harper Teen
Páginas:
444
Data de Publicação:
9 de Fevereiro 2016
Sinopse:


If there's one thing Mare Barrow knows, it's that she's different.
Mare Barrow's blood is red—the colour of common folk—but her Silver ability, the power to control lightning, has turned her into a weapon that the royal court tries to control. The crown calls her an impossibility, a fake, but as she makes her escape from Maven, the prince—the friend—who betrayed her, Mare uncovers something startling: she is not the only one of her kind.
Pursued by Maven, now a vindictive king, Mare sets out to find and recruit other Red-and-Silver fighters to join in the struggle against her oppressors. But Mare finds herself on a deadly path, at risk of becoming exactly the kind of monster she is trying to defeat.
Will she shatter under the weight of the lives that are the cost of rebellion? Or have treachery and betrayal hardened her forever? The electrifying next instalment in the Red Queen series escalates the struggle between the growing rebel army and the blood-segregated world they've always known—and pits Mare against the darkness that has grown in her soul.
Opinião:
Li este livro no final de Agosto e devo dizer que, um mês depois, mal me lembro da história. Isso não é muito bom, pois não?

Glass Sword é continuação de A Rainha Vermelha e, apesar de ter gostado do primeiro e ter esperanças que este fosse ainda melhor, achei que ficou aquém das expectativas.

Tem bastante acção, sim, mas é diferente do tipo de acção a que temos acesso no primeiro livro. Aqui, são postas em causa lealdades, até daqueles em quem mais confiamos. Gostei da relação que se desenvolveu entre Mare e a sua família, e Mare e Cal, o príncipe prateado – ainda que este desenvolvido não tenha sido exactamente positivo entre as personagens. Apesar disso, Mare não consegue confiar em ninguém, o que acaba por, por vezes, irritar o leitor pois grande parte das vezes é possível, para não dizer fácil, perceber quem está do lado de Mare e quem está contra ela.

O livro acaba por se focar demasiado na Mare e a própria personagem vira-se demasiado sobre si mesma e faz dela própria o centro do mundo, não permitindo interpretações e impedindo o leitor de ver outra maneira (que não a dela) a perspectiva das outras personagens. A maior parte das vezes, Mare age mal e custou-me a perceber os sentimentos dela e a maneira como ela agia com Cal e o que ainda sentia por Maven, mesmo depois de ver o quão odioso e horrível o príncipe Maven era. E Cal acaba, como no livro anterior, por sofrer às mãos de Mare – aliás, todos sofrem às mãos dela, seja pelas suas ideias e pela maneira como ela as executa, seja pelo seu comportamento, que não é dos melhores. Lembro-me de ler uma opinião literária sobre o livro que dizia algo como " gosto da personagem da Mare exactamente por não gosto dela como pessoa", parafraseando (e peço desculpa por não por a referência de quem escreveu isto, mas já foi há algum tempo e não me recordo), e é um pouco isso. A personagem está bem-criada e é fiel a si mesma, é coerente, mas só isso é que está a favor dela. Eu, pessoalmente, não gosto dela.

Neste livro temos a apresentação de várias personagens novas, mais vermelhos que, como Mare e o seu irmão, têm poderes. São muitas personagens que aparecem rapidamente e gostaria que elas tivessem sido um pouco mais exploradas individualmente, mas percebo que dentro do período temporal que a autora criou isto pudesse ser um pouco difícil.

Tenho esperanças que o próximo livro seja melhor (a classificação deste livro foi descendo à medida que escreva a crítica e percebia o quão pouco acabei por verdadeiramente gostar deste livro) e, como este acabou num cliffhanger e manteve-me interessada o suficiente na história e algumas personagens, planeio continuar a série. Esperemos que em breve saia em português.