Ler em Português
Read in English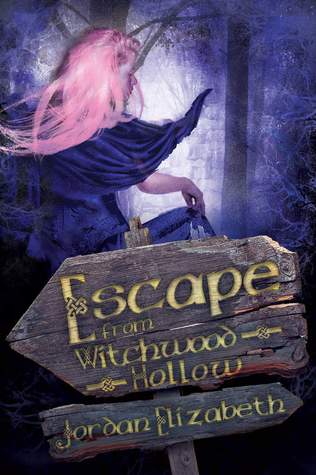 Título em Português:
--
Série:
--
Autor(a):
Jordan Elizabeth Mierek
Editora:
Curiosity Quills Press
Páginas:
178
Data de Publicação:
29 de Outubro de 2014
Sinopse:


Everyone in Arnn - a small farming town with more legends than residents - knows the story of Witchwood Hollow: if you venture into the whispering forest, the witch will trap your soul among the shadowed trees.

After losing her parents in a horrific terrorist attack on the Twin Towers, fifteen-year-old Honoria and her older brother escape New York City to Arnn. In the lure of that perpetual darkness, Honoria finds hope, when she should be afraid.

Perhaps the witch can reunite her with her lost parents. Awakening the witch, however, brings more than salvation from mourning, for Honoria discovers a past of missing children and broken promises.

To save the citizens of Arnn from becoming the witch's next victims, she must find the truth behind the woman's madness.

How deep into Witchwood Hollow does Honoria dare venture?
~ Recebemos este eARC directamente da autora. Thank you! ~
Opinião:
Escape from Witchwood Hollow foi-me enviado pela autora para que eu pudesse ler e escrever uma crítica honesta. E ainda bem, porque de outra forma não saberia da existência deste livro.

Este livro tem uma composição interessante, porque nós seguimos a estória de três raparigas diferentes de períodos diferentes no tempo (1600's, 1800's e 2000's), e elas estão todas relacionadas. É um livro bem escrito e bem organizado, pois nunca nos perdemos no plot, mas eu senti que poderia ter sido melhor. No final do livro, este não me prendeu às suas palavras; eu não senti nada. E para ser honesta, gostaria de ter lido mais sobre a bruxa, de a conhecer melhor, porque eu acho que nunca a compreendemos verdadeiramente e não sabemos muitos sobre ela, excepto alguns detalhes.

Eu não gostei da Honoria. Bem, eu também não desgostei dela, simplesmente não consegui relacionar-me com ela. Eu não sei dizer o porquê, apenas não consegui; foi algo que senti, ou melhor, que não senti, para ser mais concreta. Nós temos várias personagens, mas eu acho que nenhuma delas é mais do que os pequenos pormenores que vamos lendo sobre elas. Não são profundas. E isso é basicamente o que eu senti com este livro. Eu terminei o livro no inicio do mês e pouco mais consigo escrever sobre ele, porque ele não agarrou.

Eu gostei de o ler, foi prazeroso e está bem escrito, mas não é um livro que fique connosco depois de o fecharmos.