Ler em Português
Read in English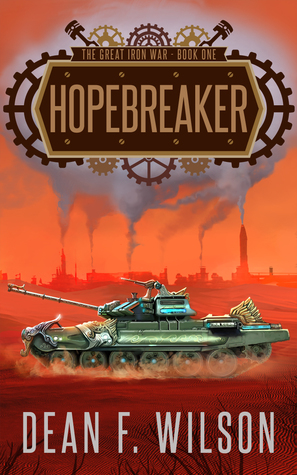 Título em Português:
--
Série:
The Great Iron War #1
Autor(a):
Dean F. Wilson
Editora:
Dioscuri Press
Páginas:
220
Data de Publicação:
15 de Dezembro de 2014
Sinopse:

In the world of Altadas, there are no more human births. The Regime is replacing the unborn with demons, while the Resistance is trying to destroy a drug called Hope that the demons need to survive.

Between these two warring factions lies Jacob, a man who profits from smuggling contraceptive amulets into the city of Blackout. He cares little about the Great Iron War, but a chance capture, and an even more accidental rescue, embroils him in a plot to starve the Regime from power.

When Hope is an enemy, Jacob finds it harder than he thought to remain indifferent. When the Resistance opts to field its experimental landship, the Hopebreaker, the world may find that one victory does not win a war.
~ Recebemos este eARC directamente do autor. Thank you! ~
Opinião:
Deitei-me à leitura de Hopebreaker sem saber absolutamente nada sobre estória. Dean F. Wilson entrou em contacto comigo, através do nosso e-mail (que está disponível para quem quiser entrar em contacto connosco, seja qual for o assunto), oferecendo o seu livro em troca de uma crítica honesta. Aceitei e atirei-me ao desconhecido.

Estou numa fase que tem sido um pouco complicada e isso tem se reflectido não só no tempo que demoro a ler os livros (independentemente de estar a gostar ou não) e também da minha abertura para eles. Alguns acabam por sofrer com isso, outros nem por isso.

Acho que Hopebreaker faz parte da segunda categoria, apesar de ter demorado quase um mês a ler o livro. Não posso, no entanto, dizer que adorei o livro. Gostei, até certo ponto, mas não consegui criar grande ligação com o livro. O enredo tem nuances interessantes, e o tema geral até é apelativo, mas não funcionou para mim.

Levei a leitura até ao fim, porque, primeiro, não gosto de deixar livros a meio (se bem que tenho direito como leitora) e, segundo, como se tratava de um livro cedido pelo autor eu tento sempre levar as leituras até ao final. Acabei por ler um livro sem qualquer tipo de conexão com as personagens; nenhuma delas puxou pelo meu interesse ou empatia. Ainda assim, a estória deixou-me curiosa. Quem são estes demónios? Como chegaram à Terra? Qual é o objectivo deles? Tenho várias perguntas, mas verdade seja dita, não sei até que ponto a minha curiosidade me fará querer continuar a seguir esta saga.

Pode parecer que não gostei de todo do livro, mas não é verdade. Ele está bem escrito e, em certas alturas, eu estava mesmo embrenhada no enredo, mas não foi um sentimento geral ao livro todo, e esses momentos eram raros. Tenho pena de não ter gostado mais deste livro, porque achei que tinha potencial para isso e foi o primeiro livro de steampunk que li.

É uma saga que ficará em standby, por uns tempos, e talvez venha a dar uma oportunidade ao segundo livro no futuro, para já não dá.