Ler em Português
Read in English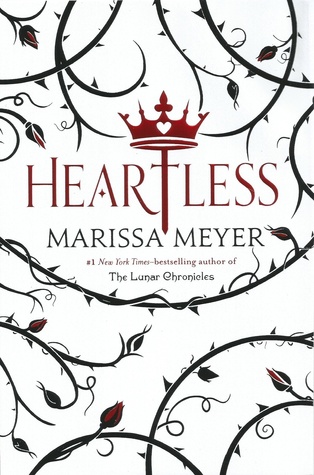 Título em Português:
--
Série:
--
Autor(a):
Marissa Meyer
Editora:
Feiwel & Friends (Owlcrate Edition)
Páginas:
453
Data de Publicação:
08 Novembro 2016
Sinopse:


Catherine may be one of the most desired girls in Wonderland and a favorite of the unmarried King, but her interests lie elsewhere. A talented baker, she wants to open a shop and create delectable pastries. But for her mother, such a goal is unthinkable for a woman who could be a queen. At a royal ball where Cath is expected to receive the King's marriage proposal, she meets handsome and mysterious Jest. For the first time, she feels the pull of true attraction. At the risk of offending the King and infuriating her parents, she and Jest enter into a secret courtship. Cath is determined to choose her own destiny. But in a land thriving with magic, madness, and monsters, fate has other plans.
Opinião:
MEU DEUS!! O QUE FOI ISTO?!?!?!?
Eu nem sei como escrever esta crítica sem dar numa de fangirl histérica e sem sentido. Mas eu vou tentar porque sou uma full grown woman! LET'S GO!
Primeiro que tudo, eu recebi este livro na Owlcrate de Novembro (podem ver o meu post sobre isso
aqui
!) e nem vos digo como fiquei feliz quando abri a caixa e vi que era este o livro seleccionado! (Aqui entre nós, que ninguém nos ouve: antes de receber a minha caixa eu já sabia que ia ser o
Heartless
, porque uma pessoa não é de ferro e a comunidade bookstagram já andava a publicar montes de fotos de
unboxing
desta caixa e eu spoilei-me! Mas…. Ssssshh, não digam a ninguém!)
Como já referi algumas vezes aqui no blog,
Alice in Wonderland
é um dos meus livros favoritos e, por esse motivo, eu já andava de olho neste livro desde que Marisa Meyer revelou que o estava a escrever. Só que eu não sou uma pessoa de ir logo a correr comprar livros em pre-encomenda ou assim que saem. Primeiro, porque versão em inglês a hardcover é sempre a primeira a sair e é mais cara, por isso, espero pela edição paperback – mais jeitosa para levar na mala e mais em conta. Segundo, sou controlada (
cofLOOLcof!
).
E agora sim, vamos entrar, finalmente, na critica mesmo deste livro.
Heartless
é sobre Lady Catherine, filha do Marquês Pinkerton, uma jovem que adora fazer bolos e outras coisas deliciosas com a sua melhor amiga, e criada, Mary Anne. Ela tem o grande sonho de abrir uma pastelaria com a amiga, mas numa sociedade Vitoriana isso nunca seria possível. A repressão social, derivada do sexismo, deixou a minha feminista interior com os nervos à flor da pele e com uma vontade imensa de atirar o livro pela janela, mas a época em que se passa a estória era mesmo assim e Meyer conseguiu fazer o balanço ideial entre o conto em que se baseia, a época e a rebeldia de Catherine.
Como disse Catherine quer ter uma pastelaria com a sua amiga Mary Anne, mas isso era um sonho impensável para uma rapariga nobre. Jovem nobre em idade de casar não vai passar o dia a trabalhar e andar com as mãos enfiadas em farinha! Muito menos quando o próprio Rei a quer cortejar – felicidade imensa para a Marquesa, mãe de Catherine. O problema é que Catherine, não quer saber do Rei nem de ideias precomcebidas idiotas. E tudo se torna ainda mais complicado quando Jest, o bobo da corte, aparece e mostra um mundo de impossibilidades a Cath.
Fiquei verdadeiramente apaixonada pelo Joker, ou Jest, como ele verdadeiramente se chama, pois é uma personagem misteriosa, cheio de impossibilidades, carismático e muito sexy! Há uma imensidade de personagens interessante e muito bem desenvolvidas e adaptadas do conto original, que se eu for falar de cada uma nunca mais saio daqui!
Com
Heartless
entendo porque gosto tanto dos livos da Marissa Meyer, porque, como já fiz a leve referencia umas linhas acima, a autora sabe fazer o equilíbrio perfeito entre os vários ingredientes necessários para um bom livro, e no caso especifico da Meyer, nos
retellings
. Marissa Meyer coloca na estória leves referências que fazem o leitor identificar qual é o conto de fadas que tem como inspiração sem se colar demasiado ao original, dando reviravoltas interessantes, acrescentando a sua própria marca.
Muito sinceramente, adorei o livro e estou oficialmente fã de Marissa Meyer! Recomento para quem gosta de Wonderland, retellings em geral, ou simplesmente de um bom livro de fantasia, pois
Heartless
apesar de ser um retelling de uma estória tão conhecida, consegue vingar por ele mesmo.
OFF WITH HIS HEAD!
and so it begins…