Ler em Português
Read in English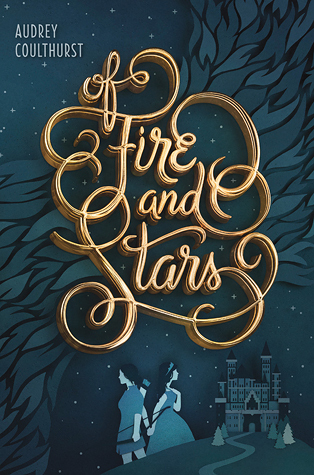 Título em Português:
--
Série:
--
Autor(a):
Audrey Coulthurst
Editora:
Balzer + Bray
Páginas:
389
Data de Publicação:
22 Novembro 2016
Sinopse:


Betrothed since childhood to the prince of Mynaria, Princess Dennaleia has always known what her future holds. Her marriage will seal the alliance between Mynaria and her homeland, protecting her people from other hostile lands. But Denna has a secret. She possesses an Affinity for fire—a dangerous gift for the future queen of a kingdom where magic is forbidden.

Now, Denna must learn the ways of her new home while trying to hide her growing magic. To make matters worse, she must learn to ride Mynaria's formidable warhorses—and her teacher is the person who intimidates her most, the prickly and unconventional Princess Amaranthine—called Mare—the sister of her betrothed.

When a shocking assassination leaves the kingdom reeling, Mare and Denna reluctantly join forces to search for the culprit. As the two become closer, Mare is surprised by Denna's intelligence and bravery, while Denna is drawn to Mare's independent streak. And soon their friendship is threatening to blossom into something more.

But with dangerous conflict brewing that makes the alliance more important than ever, acting on their feelings could be deadly. Forced to choose between their duty and their hearts, Mare and Denna must find a way to save their kingdoms—and each other.
Opinião:
Confesso que se não fosse a Owlcrate e a comunidade bookstagram não teria conhecimento deste livro. A minha relação com Of Fire and Stars é um bocadinho complicada.

A premissa deste livro era bastante interessante e, por esse motivo, as minhas expectativas relativamente a este livro foram-se elevando, mas ainda antes de começar a leitura reparei que tanto na comunidade bookstagram (habituem-se porque vou passar a falar bastante sobre isto, já que actualmente faz parte da minha vida de forma bastante presente) como no Goodreads algumas críticas que variavam bastante entre o bom e o mau. Comecei a ficar com pé atrás, criando em mim alguns receios, mas tentei entrar no livro de mente aberta. Of Fire and Stars prometia um romance LGBT com fantasia e magia à mistura, e… bem, de facto, está lá isto tudo, mas podia ter sido tão melhor.

Relativamente à magia/fantasia, o que há não me satisfez. Dennaleia é uma jovem princesa que desde cedo estava prometida ao príncipe de Mynaria, de forma a estabelecer uma aliança entre o reino do seu pai e o de Mynaria. Por essa razão, toda a sua vida girou em torno desse acontecimento. O único problema é que Denna nasceu com a afinidade para o fogo, coisa que era considerada não só heresia como completamente proibida no reino em que seria futura Rainha. Pouco ou nada lemos sobre este assunto da magia e das afinidades. Só muito para lá do meio de livro é que começamos a ter alguns vislumbres, mas nada de satisfatório. O que para mim se tornou num aspecto negativo, porque queria MESMO saber mais sobre estas afinidades – saber como cada uma delas se desenvolvia e vê-las em acção. Eu queria a magia que me era prometida e que não a obtive!

Apesar de prometida ao Príncipe, assim que chega a Mynaria é Amaranthine – Mare para os amigos -, irmã do Príncipe, uma princesa irreverente e amante de cavalos, que arrebata o coração de Denna. É um amor que surge de uma amizade conturbada e eu gostei disso, pois não foi um daqueles instalove irritantes. Mas o que eu mais gostei não só no romance de Denna e Mare, mas no livro em geral, é que este não é a única relação LGBT presente na estória e é abordada com tamanha naturalidade que o leitor recebe este amor sem sequer pensar duas vezes no assunto – E É ASSIM QUE DEVERIA SER NA VIDA REAL. Uma relação heterossexual ou homossexual deveria ser aceite da mesma forma e naturalidade. Este é o aspecto positivo que mais saliento neste livro: naturalidade na abordagem de temas complicados como da comunidade LGBTQ+, sem pudores e tabus. Outro aspecto a salientar é a presença de várias personagens femininas em posições de poder. Só para dar um exemplo, em Mynaria é uma mulher que é a Capitã do exército do reino e que está à frente da defesa do mesmo – posição nunca atribuída a uma mulher. Apesar de se tratar de um reinado, há uma assembleia que se reúne com o Rei para melhor governar o reino, da qual fazem parte mulheres com peso nas decisões.

Apesar deste lado positivo que tanto gostei no livro, este livro não me satisfez por várias razões. Achei que a construção do mundo deste livro deixou algo a desejar, poderia ter sido melhor desenvolvido não só em termos de território, mas de magia e relações entre personagens. A autora focou-se imenso nas duas personagens femininas, e deixou as outras com pouco desenvolvimento – ainda que tanto Denna e Mare precisassem de ser mais complexas e desenvolvidas.

Ao terminar o livro senti-me verdadeiramente desfalcada. Na altura pensei que daria 3 estrelas, mas neste momento, sinto que não chega a isso. Foi relativamente desapontante. Pouco desenvolvido, prometeu e não cumpriu. Para ser sincera, pouco ou nada acontece neste livro e poderia ser resumido aos últimos capítulos quando algo remotamente interessante surge, desenvolve-se e é resolvido. É uma pena porque achava mesmo que este poderia ter sido algo bem mais interessante e satisfatório se a autora se tivesse focado mais na magia e fantasia associada do que a politiquices.